Fees for IP Address in 2023
Every belonging or something we control can be called property. For example, real estate objects or land we can call regular property. There are also intangible properties (names of brands, logos, unique content, etc.). This category is rather complicated.
Management or ownership of intangible objects differs from those of physical assets. Thus, internet numbers or names can be provided on contract terms for a certain period of time or without time limits. A contracting party can proceed with a registration procedure – to become a member.
The Internet Assigned Numbers Authority (IANA) is the main online registry. It heads all the other registers with web protocols, numbers, and names. For example, online traffic is working on HTTP protocol. In its turn, those protocols are using ports. No other protocol can work on the registered port. So, registration is an important condition. Lists with all the protocols are published on IANA. There one can find updated information.
Each register is managed. Managers have to cover the spending. That's why registration is paid. Users pay for numerous network resources, including IPs, names, etc.
Presently, there exist five registries functioning on a regional level for Number Resources. They charge customers different fees.
Roots Of System Development
When the internet was an innovation, its initial organization DARPA signed a contract with the Information Sciences Institute at the University of California. They covered IANA's responsibilities. They made the list of identifications according to web locations (interfaces). These numbers are known as IP addresses. Technical progress required particular changes.
The internet was actively developing. From 1992, commercial traffic moved online. It was in 1992. The result of such policy change turned into appearing in two directions. On the one hand, networks worldwide started using internet connections. On another hand, the American government tried to avoid spending on supporting the centralized base of domains and IPs. The government started activities to turn internet administrative needs into a private sector. At the end of 1992, RFC 1446 offered an initiative to divide the registration for serving global users more diversely.
The cooperation of network operators was aimed at changing the principles of Internet Number of Resources. The registry had to become more regionalized. In Europe, the RIPE NCC appeared (in April 1992). APNIC (Asia-Pacific region) started its way in 1993.
In the USA the initial step for privatization was the creation of the American registry for internet numbers ARIN (1997).
Today there are five existing Regional Internet Registries. RIRs' function is to run IP registrations. In several regions, National Registries (NIRs) work to support RIRs.
NIRs are operating under the supervision of RIRs. The difference is that they first serve customers in a certain country. In such a way, operators can communicate in the language they prefer, work under the law on the local level, and use the local currency.
What's Paid?
Fee terms and schedule is individual for each RIR/NIR. Customers are charged for three basic aspects:
a membership charge that provides the right to register IP, and participate in voting;
a non-member fee to use a registry IP function for an organization;
a transaction charge for all kinds of transfers.
Most organizations are only charged as membership registrants or non-membership customers.
As a member, an organization can implement RIR management activities by voting. Those organizations that want to achieve smooth functioning, are taking serious responsibility. There are some restrictions for some organizations that don't allow them to take a membership with other companies. There are also those who don't want to lead management.
Setting Fees by RIR
RIR members choose a board on elections. The board suggests and sets the charge schedule once a year. Some regional RIRs are allowed to set fees by themselves. According to standard procedure, the board is the one to offer an idea. The final decision is taken after voting.
Setting IP fees can seem a boring task for some people.
Any changes concerning fees (sizes, ways) become the center of webspace attention immediately.
Prices
In the following guide, we'll demonstrate the charge of the RIRs in 2023. The information concerns 65,000 IPv4 addresses (a class B).
Different RIRs have different fees. It concerns both the size and the schedule. Moreover, the difference can be huge. For example, NCC RIPE canceled the differentiated charge. Instead, they set low commission that is compulsory for everyone. APINIC sets base charge. Extra fees or discounts depending on the IP space and the location of the organization.
The fees are reviewed once a year. In 2023 payments will rise.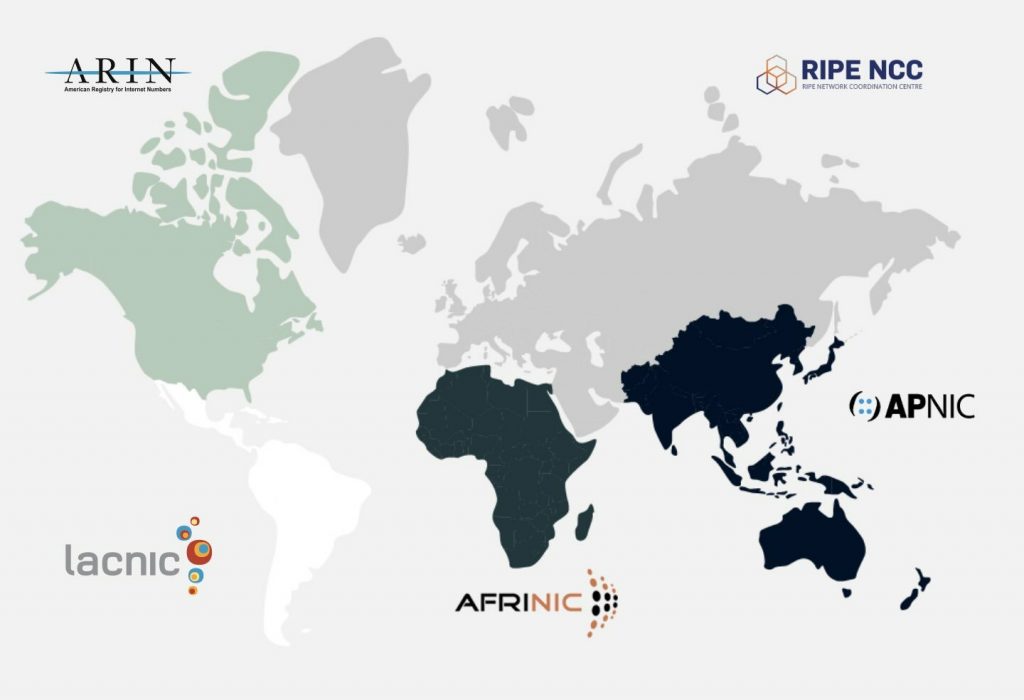 AFRINIC
There are seven levels of fees for members and the same quantity of levels for the number of resources under its management. Costs vary from $3,150 to $48,400.
For non-members, the fees are $200-2,500 per year.
According to Afrinic's policy, transfers are available only on emerging and acquisition terms.
APNIC
It sets the charge for base membership – at 1,180 AUD. Further payments depend on the amount of IP space that belongs to the registrant. Payment is reduced twice for the poorest countries.
The minimal annual charge is 1,180 AUD. Price for A/16 (Class B) is 9,626 AUD.
To sign-up, you have to pay 500 AUD.
Transfers are paid 20% of the membership charge per year.
ARIN
In 2022, the company set a fee limit for legacy resource owners to $150. The plan was to raise the sum by $25 each year. There are eleven levels of charge for registered organizations assigned to the plan. Transfers cost $500.
LACNIC
23 charge levels for partners with membership. Payment is from $600 to $365,000. The first-time assignment may cost $2,500 or $5,000. It depends on the size. After that, there is a fixed cost per year – of $600.
Special offer – discounted fees paying for 30 days. Transfers are available with zero commission.
RIPE NCC
All the customers make payments on the same terms. In the previous year, the first-time registration cost 1,000 euros. Fees per year are 1,400 euros.
Transfers are free. Extra cash is divided between members.