Fees for IP Address in 2023
Property refers to anything we possess or have control over, such as physical assets like real estate or intangible assets like brand names and unique content. Managing and owning intangible assets differs from physical assets, particularly when it comes to internet numbers and names. These can be obtained through contractual agreements with the Internet Assigned Numbers Authority (IANA), the main online registry overseeing web protocols, numbers, and names. Registration is crucial for protocols to work on specific ports, and the IANA publishes updated lists of all protocols. Each registry is managed and requires payment for registration to cover expenses. Currently, there are five regional registries for Number Resources, each charging varying fees to customers.
Roots Of System Development
During the early stages of the internet, DARPA, in collaboration with the Information Sciences Institute at the University of California, entered into a contract to handle the responsibilities of the Internet Assigned Numbers Authority (IANA). They created a list of identifiers called IP addresses to designate web locations or interfaces. As the internet rapidly grew, commercial traffic shifted online in 1992. This change led to two developments: global networks adopting internet connections and the American government seeking to reduce costs by privatizing the administration of domains and IPs. In response, the concept of regionalizing the registration of Internet Number Resources was introduced in 1992 through RFC 1446, promoting more diverse global user service. This led to the establishment of regional internet registries, such as RIPE NCC in Europe (April 1992) and APNIC in the Asia-Pacific region (1993). The privatization process in the United States resulted in the creation of the American Registry for Internet Numbers (ARIN) in 1997. Currently, there are five Regional Internet Registries (RIRs) responsible for managing IP registrations. Some regions also have National Registries (NIRs) that operate under the supervision of RIRs and primarily serve customers within a specific country. NIRs provide the advantage of local language support, adherence to local laws, and transactions in the local currency.
What's Paid? (payment structure)
The fee structure and payment schedule vary for each Regional Internet Registry (RIR) or National Internet Registry (NIR). Customers are billed for three main aspects:
Membership Charge: This fee grants the organization the right to register IP addresses and participate in voting within the registry.
Non-Member Fee: Organizations that are not members of the registry are required to pay this fee to utilize the IP registration function.
Transaction Charge: A charge is applied for any kind of IP address transfer.
Most organizations are either charged as membership registrants or non-membership customers. Being a member allows organizations to actively participate in RIR management activities through voting. However, certain restrictions may apply to some organizations that prevent them from becoming members or partnering with other companies. Additionally, some organizations may choose not to take on management responsibilities.
Setting Fees by RIR
RIR members participate in board elections, and it is the board's responsibility to propose and establish the fee schedule on an annual basis. In some regional RIRs, the authority to set fees is delegated to the individual registries. However, the standard procedure involves the board initiating the fee proposal, and the final decision is made through voting.
The process of determining IP fees may be perceived as uninteresting by some individuals. However, any modifications to the fees, including their amounts and methods of calculation, quickly attract significant attention within the online community.
Prices
In this guide, we will provide an overview of the fees charged by the RIRs in 2023 for 65,000 IPv4 addresses (a class B network).
Each RIR has its own fee structure, which varies based on the size of the IP address allocation and the payment schedule. The differences in fees can be substantial. For instance, RIPE NCC has eliminated differentiated charges and instead implemented a mandatory low commission for all customers. APNIC, on the other hand, sets a base charge and may apply additional fees or offer discounts based on the IP space and the organization's location.
The fees are subject to an annual review, and in 2023, it is anticipated that the payments will increase.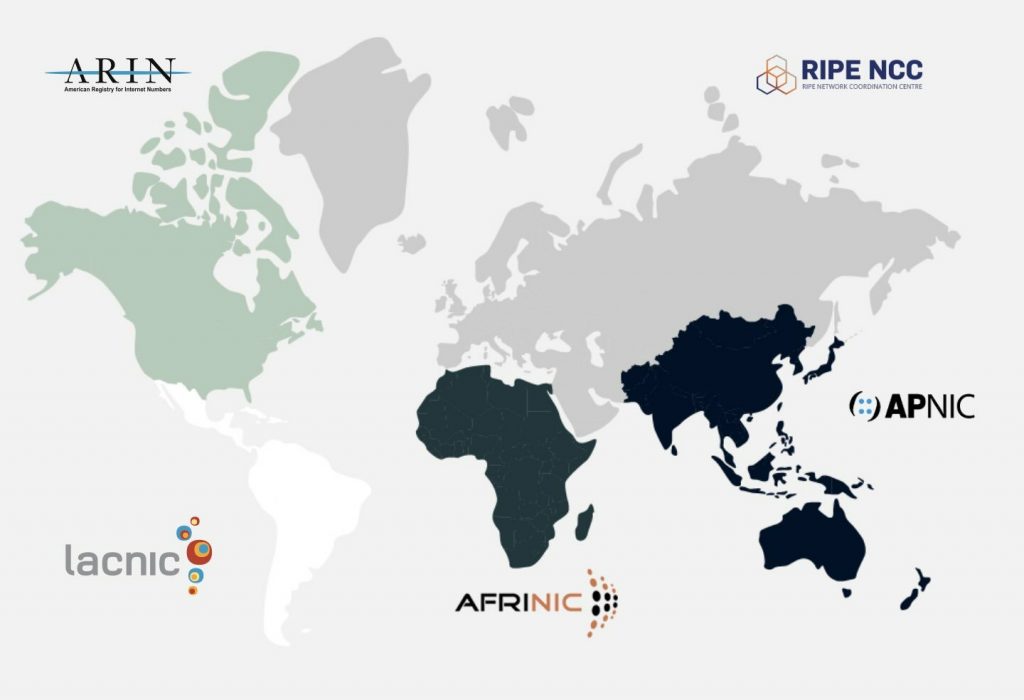 AFRINIC
There are seven tiers of fees for members based on the number of resources they manage, ranging from $3,150 to $48,400. Non-members are subject to fees ranging from $200 to $2,500 per year. AfriNIC's policy allows transfers only under specific conditions such as emerging markets and acquisitions.
APNIC
The initial membership fee is set at 1,180 AUD, with additional payments based on the amount of IP space owned by the registrant. Payments are reduced by half for the poorest countries. The minimum annual charge is also 1,180 AUD. The cost for A/16 (Class B) IP space is 9,626 AUD. To enroll, a fee of 500 AUD is required. Transfers incur a charge of 20% of the annual membership fee.
ARIN
In 2022, the company established a fee cap of $150 for owners of legacy resources. The intention was to increase this amount by $25 annually. The plan includes eleven tiers of charges for registered organizations participating in the program. Transfers incur a fee of $500.
LACNIC
There are 23 fee levels for partner memberships, ranging from $600 to $365,000. The initial assignment cost depends on the size and can be either $2,500 or $5,000. Following that, there is an annual fixed cost of $600. A special offer allows for discounted fees if paid within 30 days. Transfers can be made without any commission charges.
RIPE NCC
All customers adhere to the same payment terms. In the previous year, the initial registration fee was 1,000 euros, and the annual fees amounted to 1,400 euros. Transfers incur no additional charges. Any surplus funds are distributed among the members.