INTERLIR: IPv4 Address Broker and Networks Marketplace
InterLIR GmbH is a marketplace solution that aims to solve network availability problems with innovative real-time solutions. Our services include real-time IP address leasing and market visualization to increase network availability and optimize their value. Our goal is to become the most reliable IP address provider and market leader worldwide by offering an efficient platform where owners and users meet.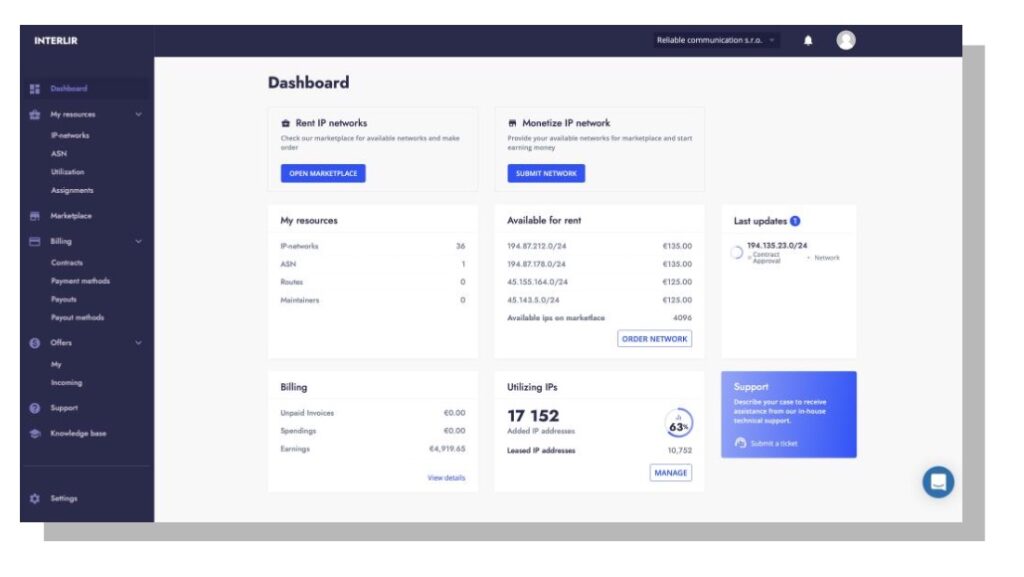 Redistribution
Our platform facilitates the redistribution of unused IPv4 resources worldwide, enabling practical usage for those in need. Through our services, IPv4 address owners can lease their IP networks on a reimbursable basis providing the opportunity for the others to utilize those addresses when required.
Additionally, we offer support for permanent IP network transfers. By using our platform you can easily find and trade IPv4 addresses with other companies or individuals who require them. This eliminates the need for subleasing and reduces the risk of being scammed by IP brokers.You can connect with other organizations that need IPv4 addresses within your range and make direct trades with them right away.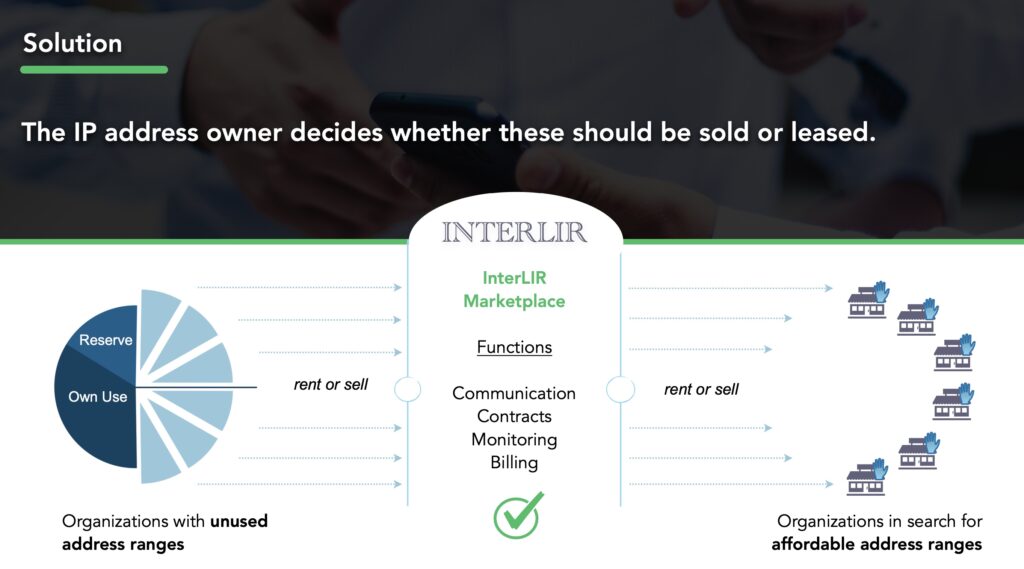 Community
InterLIR aims to create a platform that connects network block owners and clients seeking IP addresses. The portal will act as an IPv4 broker platform between clients and local network owners, providing a simple, transparent and automated process of selling or leasing IP addresses. This service benefits both end users and network space owners, as it allows IP owners to monetize their unused IP addresses and online services. The platform also addresses the issue of ISPs no longer providing the new IPs to the public and the need for companies that provide internet access using private IP ranges.
InterLIR is collaborating with multiple German hosting companies on a project to assist small businesses in utilizing their unused IP addresses by renting them out through IPv4. This initiative aims to decrease administrative costs and free up time for network administrators, enabling them to allocate their resources more effectively.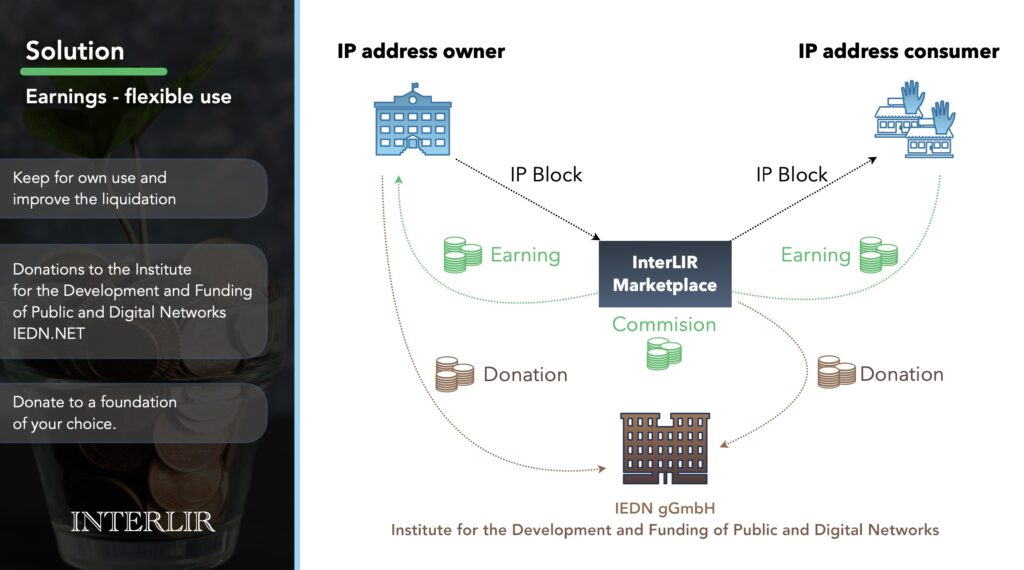 Scenario 1 – Customer
InterLIR's IP Marketplace operates similarly to car rental services, providing customers with the option to select and pay for required IP-blocks only when they need them. As a customer you can select the necessary number of IP addresses and for how long. InterLIR's system then matches your request with available networks in inventory that can meet your needs, and all IPs are pre-approved by the owners.
For IPs owners, InterLIR offers a new opportunity to lease out their IP networks and earn extra money without the additional costs of running network equipment and maintenance 24/7. All expenses are included in the lease price, and InterLIR only charges a commission for management services, aiming to help your business grow. InterLIR wants to demonstrate how easy and profitable it is to conduct business with them. For IP address end-users, InterLIR provides an excellent opportunity to rent IP addresses when needed without the need to overbuy or store unused IP addresses. Instead, users can pay for only what they use.
Marketplace
Our IP network marketplace is an easy and convenient way to either buy or lease unused IP address space. Our platform is user-friendly and ensures a smooth process, offering all the necessary tools at the most competitive prices. We receive payment upon the initial order, and you pay on a monthly basis for our services. Our revenue is solely based on customer feedback, so we are always improving our site's network selections and functionality to provide our customers with the best experience. By purchasing unused network addresses, you can upgrade your current IP address space and rent them out to cover your hosting expenses. We accept various payment methods, including credit cards, SEPA, Giropay, and cryptocurrency. Transactions on our platform are secure and protected with SSL encryption through Stripe.
Scenario 2 – Provider
The IP network provider has unused public IP addresses that are available for use (for example, /24 netmasks or bigger). To make these addresses available to others, the provider can sign up at InterLIR and list their inventory. This process is quick and easy, and once the inventory is completed , InterLIR takes over to manage the rental process. All contracts and communication related to the process are kept confidential and go through the InterLIR platform to protect personal data. The marketplace also has an advanced filtering system that allows users to filter and show only the IPs they are interested in.
New to the market?
Thanks to InterLIR, even people without much experience can start earning money quickly! Once a provider leases out their IPv4 addresses, they don't need to do anything else. The whole transaction is automated and under the control of InterLIR administrators. Our platform updates the necessary network parameters and RIR databases quickly, allowing the new owner to use it like their own network. We take care of everything else, including checking for conflicts, verifying possible overlaps, and ensuring that everything works as expected. Once everything is set up, we send a confirmation email to both parties, so they can start using the new network without any issues.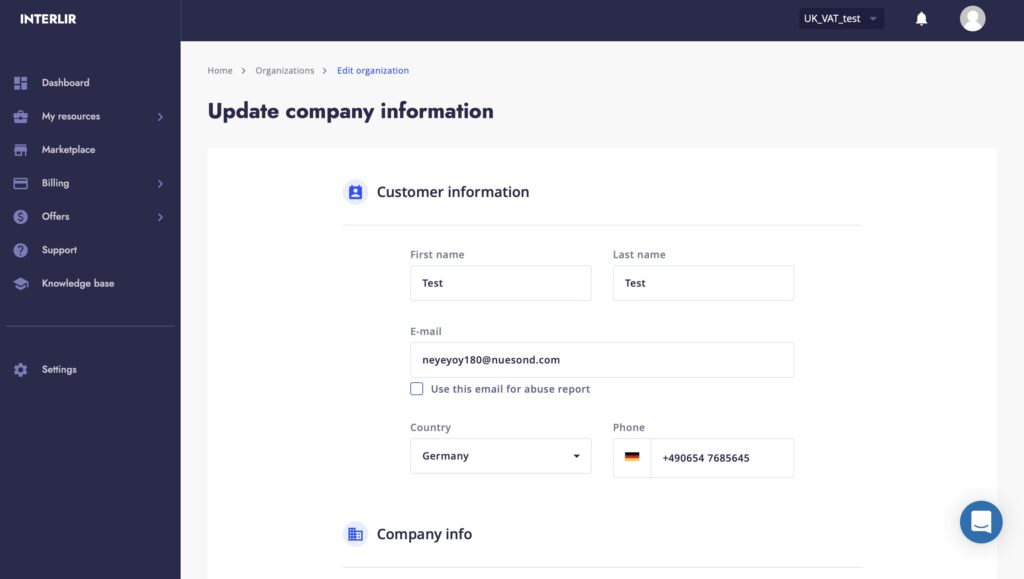 IP networks owners
The InterLIR platform allows owners of IP networks to list their unused network address space for rent or sale, thereby earning money. Often, IP addresses are not fully used by each network, and InterLIR aims to drive up the turnover of IPv4 networks by giving end-users access to extra IP addresses. By signing up as an owner on InterLIR's platform, interested parties can exchange or rent their unused IP addresses online at market price, while also accelerating IPv6 deployment. The sales team at InterLIR will contact applicants soon after receiving their applications and prepare everything so that they can launch their network as a business partner with just a few clicks. Those who are interested can fill out the online form at portal.interlir.com. The hope is that many IP network owners will join the platform soon.
Unused IPs
Our platform is not just for IP network owners looking to sell or lease out their unused address space. Other companies in need of additional IP addresses can also benefit from our services. Our platform makes it easy to purchase or rent extra IP addresses, which can be routed to your data center or other locations using private networking solutions.
Furthermore, if you are looking to sell your entire network and move it to another location, we can help you find a buyer and ensure that all data is preserved during the transfer process. We are committed to providing support throughout the entire process. The potential of our InterLIR solution is clear – it's time to make internet access more efficient for everyone.
How to list a network with InterLIR to monetize with IPv4 network rent?
This is a detailed guide on how to list your IP block on the IP Network Marketplace. It includes step-by-step instructions on how to input network information, optimize visibility, and use appropriate tools to connect with the right audience. (To make your IP network available on Interlir's marketplace, you must complete a form to verify ownership and specify rental terms.)
The process consists of 3 steps.
Checklist : Check details here
Create a business account
Add an IP network
Set lease terms
As soon as you sign a contract and set MNT-LOW or MNT-BY to interlir-mnt, your network will be available on the marketplace for rent.
How to find the right customer?
For IP blocks owners, it can be a challenge to find the right customers to rent their IP network. There are concerns about how to maximize profit without damaging IP blocks. In the following section, we will address these questions in detail.
Necessary steps to maximize your earnings from IP networks
1) Provide clean, spam-free networks
2) Set a fair market price IPv4 rent
3) Set lease terms
How much can you earn by leasing out an IP network?
All information about rental prices on the InterLIR marketplace is available here.
the owners of the ips set prices themselves and can change them when they want within one click that's why interlir platform offers a true marketplace when prices are dictated by competition and economic trends
Rental Price, Deposit details and Other Things
Once you have decided to lease out your IPv4 network, it is important to consider the details such as rental price, deposit, and other important information. Having answers to these questions available can help potential renters feel more confident in renting from you. It is a good idea to have a checklist on hand for each potential renter, either in the form of a paper document or a digital spreadsheet. It is important to have all of the details in writing, as this can help you manage any issues that may arise during the rental process. InterLIR can assist with this process by providing an automated checklist that includes workflows and integrated payment and contract approval systems. This can help ensure that nothing important is overlooked during the rental process, whether you are an owner or end-user of an IPv4 network.